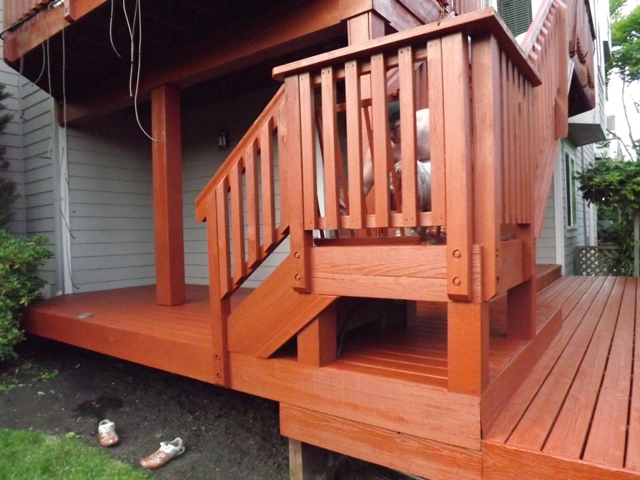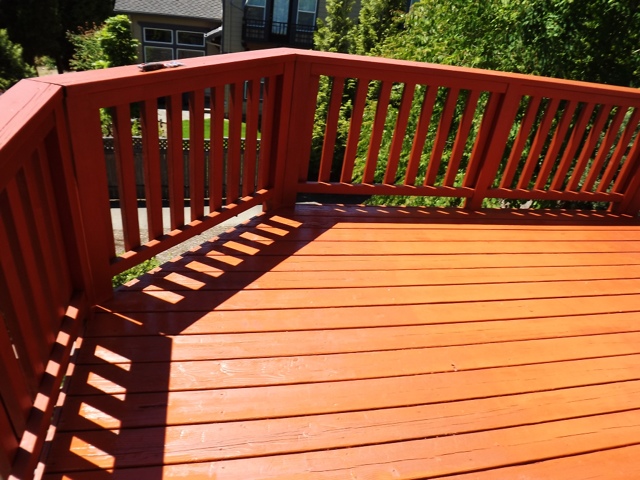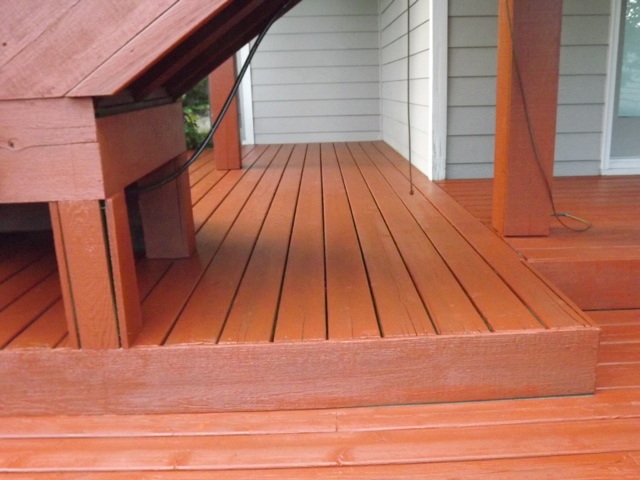 Exterior Deck Coatings
Andruszko Painting recently completed 2 deck projects, one in Beaverton and one in Lake Oswego.
The first project was a deck in Beaverton we prepared by pressure washing and sanding the entire deck surface area in order to prepare it for the application of an oil based semi transparent DeckScapes stain.
The second deck we coated was pressure washed and we applied Sherwin Williams latex based waterbourne semi transparent DeckScapes stain over an existing stain. We also coated an aluminum metal hand rail located in the front of the home which prepped, primed, and applied two coats of DTM to the hand rail.
Surface Preparation:
Preparation is key to the success of any paint job. You need a good product that will handle the ebb and flow of our ever-changing Northwest weather patterns. The influx of sudden weather changes like sun, humidity and lots of rain causes composite, wood or metal substrates to expand and contract. Portland, Oregon receives a fair amount of precipitation which will cause a lot of deck coatings to fail over a period of 12 months to 3 years. Generally speaking, if you are a homeowner and you live in the Pacific NW you will need to coat your deck and handrails every 1-2 years depending upon the product that you use, the condition of the deck (preparation) and the method used to applicate the product to the substrate you are coating.
Products:
Sherwin Williams DeckScapes and WoodScapes are two great examples of products that Andruszko Painting uses on our exterior deck and handrail projects. These products have an 8 year warranty from Sherwin Williams and come in a semi-transparent & solid color stain that professional painting contractors rely on to protect their homeowners' investment. Andruszko Painting recommends a solid color stain if you do not want your wood grain to show and the semitransparent stain if you want to see the grain in the wood of your deck.
Wood & Metal Paint System Coatings
Depending on what type of deck you have, wood or metal; the type of paint coatings you put on them will greatly depend upon what condition they are presently in. Preparation is the key to any great painting job, it accounts for 70 % of the total outcome of solid exterior paint or stain job.
Wood Decks:
If you have a home with a wooden deck, you will soon realize that your battle with deck coatings will be an ongoing struggle to protect your wood substrates. If you call our company you will get answers quickly and if we do not know the answer we will gladly find out from our deep roots in the community. Wood decks need to be pressure washed each year so you do not incur algae and moss buildup. If you pressure wash your deck too closely you will strip the coating of it's ability to protect your wood planks. Andruszko Painting owns a commercial grade Landa Pressure Washer and have trained professionals to help assist with the long term maintenance of your deck.
Metal Decks:
With a metal frame deck you will want to make sure you do not have any exposed metal to the elements. If you see rusting that is present or bare metal you need to address it properly for the prep. portion of the coating project. Ferrous (contains Iron) and Non-Ferrous Metals (do not contain Iron & is magnetic)
Bare metal requires a product called DTM (Direct to Metal) primer. If you have rust on your metal substrate, you need to first sand, score, and rough up the surface with sandpaper, a wire brush, a wire sanding wheel for an angle grinder, sand blasting or using an acidic wash to remove the corrosion, this allows any surface contaminants to be removed and it also allows the coating to grab ahold of and adhere to your substrate that you are coating. Once you have removed the rust you can apply either Uniflex- a rust inhibitor primer or DTM to the substrates that you are coating.
I came across an article that clearly demonstrates the relationship between the chemistry of metal surfaces and paint system coatings.
"Corrosion takes place because of the minute differences in electrical potential between small areas on the metal surface which become anodic (a positive charge) and cathodic (a negative charge). When an electrolyte – that is, a conductor of electrical charges — connects anodes to cathodes, a corrosion cell is created.
Moisture on the metal surface is the most common electrolyte. In the electrolyte, a small electrical current begins to flow. The iron ions produced at the anode combine with the environment to form loose, flaky iron oxide – more commonly known as rust.
"Corrosion in the true sense of the word is the oxidation of a substance and steel is not the only metal susceptible to this process. Aluminum will also corrode, and when it does it produces a white powder called aluminum oxide. Non-ferrous metals are generally less reactive than ferrous metals," says Carlsten." (1).
The article goes on to state that, "All new ferrous metal surfaces should be primed with a rust inhibitor prior to applying a finish coat. Primers are designed to protect the metals and provide a base for the finish coat. The finish coat protects the metal from moisture migration as it also provides some aesthetic appeal. But no coating can completely protect against water vapor, so the function of a rust-inhibiting primer is to absorb and tie up the water vapor as it comes through the coating, thus preventing rust-forming reactions with the metal." (1).
The aesthetic appeal is the main reason why homeowners hire a painter to coat their substrates however coatings protect your long term ROI of your home. If your metal is not protected with the proper paint system, it could mean much larger repairs, replacement and or renovation costs in the future which is exactly why you want to protect your substrates preventively versus addressing them in a reactive state when it may be too late to repair the ongoing damage the weather will inflict over time. Please call Andruszko Painting if you have run into a coating problem on any of your substrates, we have answers to your questions and we would be happy to give you a free estimate on your project. We work very closely with our paint representative, Ben Resare from Sherwin Williams who helps us with staying current on product knowledge and he also gives us the resources to engage in continuing education and training in specialty coatings offered through Sherwin Williams.
The bottom line is this: Andruszko Painting & General Contracting would like the opportunity to help you protect your investment. We are a 3rd generation Oregon Contractor, we know our products and we understand the keys of a great paint job:
1) Due Diligence Surface Preparation.
2) Choosing the right product for your substrates that you are coating.
3) Application process of the paint system product per manufacturer specifications.
4) Clean up application process
5) Preventive & Proactive maintenance.
Please call us today at 503-431-1194 for more information and a free estimate or email us:info@andruszkopainting.com